Here are the five reasons that the Hadrosaurus Statue in Haddonfield, NJ is giving humanity the side-eye, not including the fact that its eyes always rested on either side of its head because its skeleton was evolved to be that way.
Shame on you, this statue of a Hadrosaurus in Haddonfield, NJ says.
1. The "Bone Wars" help humans to remember spectacle over science.
The rivalry of Edward Marsh and Othniel Cope, as they excavated hundreds of fossils in the American West and battled to name and claim these "discoveries," is the stuff of (shameful) legend.
The Gilded Age competition between these two university professors to collect the most fossils, as well as to name the most "new" species of prehistoric fish, reptiles, and mammals, involved fistfights, lies, and dirty tricks. At different points, Cope and Marsh bribed each other's employees to send bones back to their own laboratories, or even destroyed the fossils the other had found. Even at the time, European paleontologists considered the behavior of Cope and Marsh to be overly aggressive and competitive, a sign of their crass American-ness. Cope in particular had a reputation for resolving disagreements with "fisticuffs and black eyes." 
The toddler-like behavior of Cope and Marsh continued for years, which no nap time or cathartic tantrum could quell. The only thing that eventually stopped them was running out of money to fund these hijinks-filled excavation trips.
This Hadrosaurus says: Marsh and Cope were embarrassing giant babies, wah wah.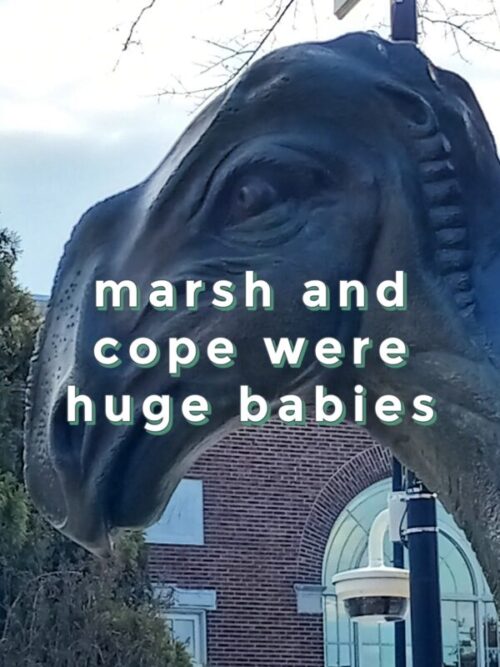 2. Joseph Leidy's work in paleontology predates Marsh and Cope; the one thing he didn't have was a toddler's temperament. 
Here is a question: Would the name Joseph Leidy stump your team at bar trivia night?
It shouldn't. Leidy is considered the founder of American paleontology, and was cataloging fossils long before Cope and Marsh entered "The Bone Wars." He eventually became so fed up with them both that he gave up his focus on paleontology.
Before the Bone Wars, Leidy was just an anatomy professor enamored with fossils. In 1858, a New Jersey farming family tipped off William Parker Foulke to odd bones on their property, leading Foulke to unearth a nearly-complete dinosaur skeleton. This was the first American dinosaur skeleton exhumed (that we know of) that could be reasonably pieced together, giving people some idea of what these ancient beasts looked like. Foulke invited Leidy to visit this skeleton, where Leidy broke new ground by sketching out how this creature may have stood. He also named it Hadrosaurus foulkii (meaning "Foulke's bulky lizard").
Twenty-six years later, this skeleton was assembled and put on view for the public at the Philadelphia Academy of Natural Sciences. The exhibit made quite a splash and is arguably the seed of the Bone Wars between Marsh and Cope, those adult-sized cranky toddlers.
Indeed, the Hadrosaurus statue, who is giving humanity the side-eye throughout this post, is a memorial to this discovery in the town where it was unearthed: Haddonfield, NJ.
Once the Bone Wars had begun, Leidy found it impossible to work at an excavation site when Cope and Marsh were on the scene. By all accounts, Leidy was the first to catalog fossils of this prehistoric mammal, sort of like the rhino of the the Eocene epoch, though both Marsh and Cope claimed the discovery as their own and each gave it their own name.
Leidy's last straw came during his 1872 visit to Fort Bridger, Wyoming, which was supposed to be one of fossil excavation and naming/claiming. Leidy's letters are scant on specifics, but he was so appalled by the antics of Marsh and Cope that he left paleontology altogether to focus instead on protozoology and parasites.
The Hadrosaurus statue says: Only giant toddlers get remembered, apparently.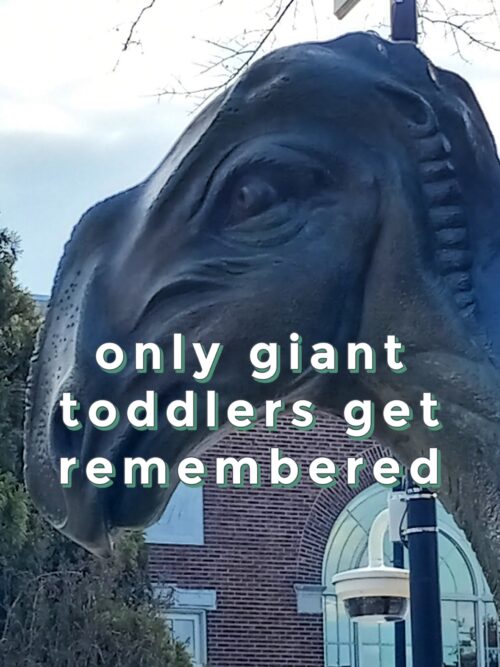 Bonus points for your trivia team: Leidy was also the person who brought the scientific study of parasites to the US and made a breakthrough in identifying the hookworm as a parasite infecting pigs as well as humans, leading to prevention and treatment methods that must have seemed miraculous at the time (the year 1846).
3. Americans consistently underestimate Philadelphia (and Joseph Leidy)
Joseph Leidy was once a household name (at least for naturalists and folks interested in scientific news of the day), so how did he fall into relative obscurity?
Leidy's biographer Leonard Warren remarks on how unusual it is for a luminary who would be internationally honored for contributions to multiple scientific fields to live his entire life in his childhood home in Philadelphia, originally purchased by his father, a hat-maker. Warren also suggests that Leidy's ties to Philly, and not any Ivy League school, are a big reason Leidy is not currently a recognizable figure. Warren also supposes that Leidy couldn't have cared less about being famous in our time.
Both Leidy and this Hadrosaurus statue say (along with the Philadelphia Eagles): No one likes us, we don't care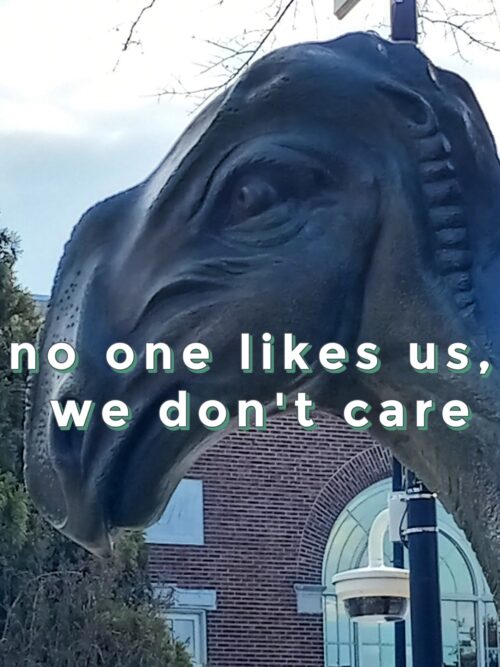 4. Humans claiming to "discover" creatures who lived millions of years ago is kind of ridiculous. 
It is perhaps for the best that Leidy's name is not currently associated with big scientific "discoveries," because those impressive titles would come with a lot of caveats.
Leidy and even Foulke can't really claim to have "discovered" the fossilized bones of one dinosaur on a New Jersey farm – the property owners did that. The Hadrosaurus foulki, which is considered by some to be "The First American Dinosaur" is actually the first dinosaur to be named as such by contemporary English-speaking European-descended Americans. There may have been ancient bones and fossils unearthed by the indigenous peoples of the Americans before European contact. So much has been lost of these indigenous cultures due to European brutality, anything is possible.
The truth is, Leidy did assemble the bones of this one particular Hadrosaurus to stand as the skeleton may have done in life for the first time since the creature perished in the Cretaceous age.
That is a cool thing to do.
Still, this Hadrosaurus says: I discovered myself.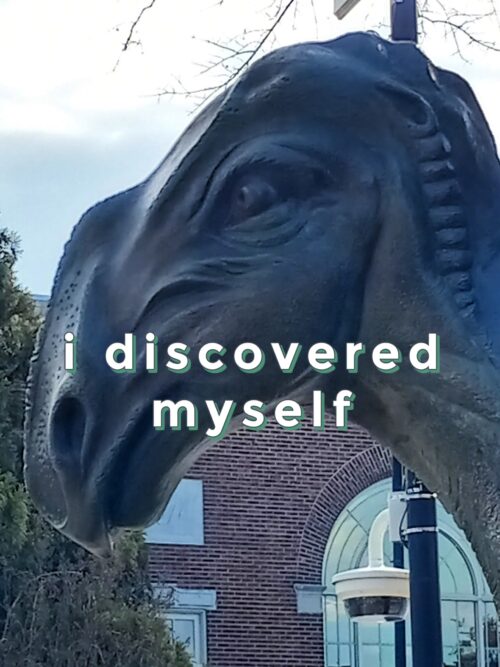 5. The problematic Western tradition of removing, claiming to discover, cataloging, and owning specimens from the natural world.
In the vernacular of Leidy's time, his field of science, "natural history," came from the Old World, a.k.a. Europe, as he was writing from the New World of the Americas.
This is a statement about relatively new migrations of humans of certain cultures, when looking at the grand scale of things. There is nothing "newer" about North America or "old" about the European continent, which ANY NATURALIST WORTH THEIR SALT SHOULD KNOW!
But if unearthing dinosaur bones from the Cretaceous period on every continent of the planet doesn't demonstrate that all continents are equally old, I don't know what will.
The Haddonfield Hadrosaurus statue says: Am I missing something? Literally nothing about 100-million-year-old fossils is "new."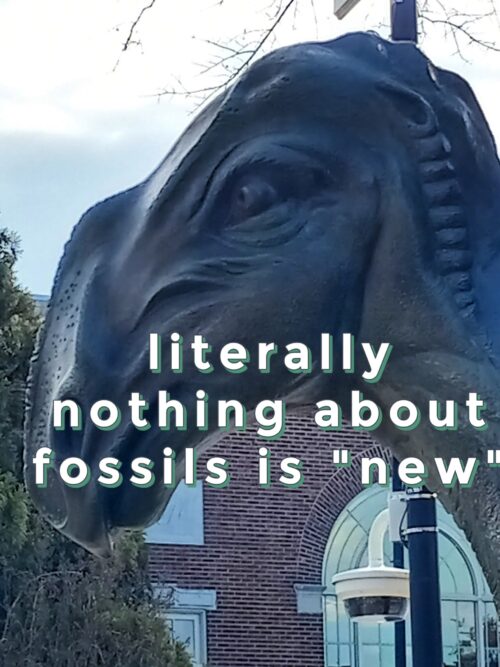 To be fair, Joseph Leidy also considered his own body a "specimen."
Leidy, ever devoted to the subject of anatomy, ensured his brain would be preserved in a jar after his death, and it is rumored to be kept in the basement of the Wistar Institute.
While still alive, Leidy used a pointer during classroom lectures made out of human bone and once bound a book with skin from a soldier who perished in the American Civil War.
There's loving the field of anatomy and then there is being a Hannibal-Lecter-style creep. You can decide for yourself where Leidy falls.
---
Source: Warren, Joseph Leidy: The last man who knew everything. Yale University Press. 1998.